Hot products
Cream products
Contact Huilong
Huilong Chemical. All Rights Reserved
Tel:+86-13754228113
Fax:+86-572-8469536
E-mail:HL-12@zjhuilong.cn
Address:No. 88 Hanghai Road, Yuyue Town Development Zone, Deqing County, Huzhou City, Zhejiang, China
Postcode: 313213
yiwu dope dyed dty 150/48 polyester yarn
ShortDesc:1. Yarn type:polyester DTY yarn(Draw textured yarn)
2. Material: 100% Polyester
3. Technics: dope dyed
4. Denier: 75D to 600D
Mobile No: +86-13754228113
<%@ %>
yiwu dope dyed dty 150/48 polyester yarn
Specifications:
Semi Dull & Trilobal Bright
Black & dope dyed colors
More than 500 color for choice
100% POLYESTER YARN DOPE DYED polyester dty yarn

75D/36F

75D/48F

150D/96F

150D/36F

150D/48F

300D/120F

300D/72F

300D/96F

300D/192F

400/72F

400D/96F

400D/144F

400D/192F

600D/144F

600D/192F
polyester dty yarn - Details:
Material

100% Polyester

Specs

150D/48F

Colors

Over 500 colors available

Usage

Knitting & Weaving

Delivery Time

25-30 days

Payment Terms

T/T & L/C

Minimum Order Quantity

3,000kg/color

Package

Inner Packing : N.W. 15kg/cone

Outer Packing : N.W. 540kg/pallet
polyester dty yarn - New Items:
HIGH FILAMENTS POY

75D/72F

150D/96F

150D/144F

300D/144F

300D/192F

450D/192F

600D/288F
POY - DAILY STOCK SERVICE: POY 300D/96F, BRIGHT, HIM, ABOUT 40COLORS.
Products - Polyester Yarns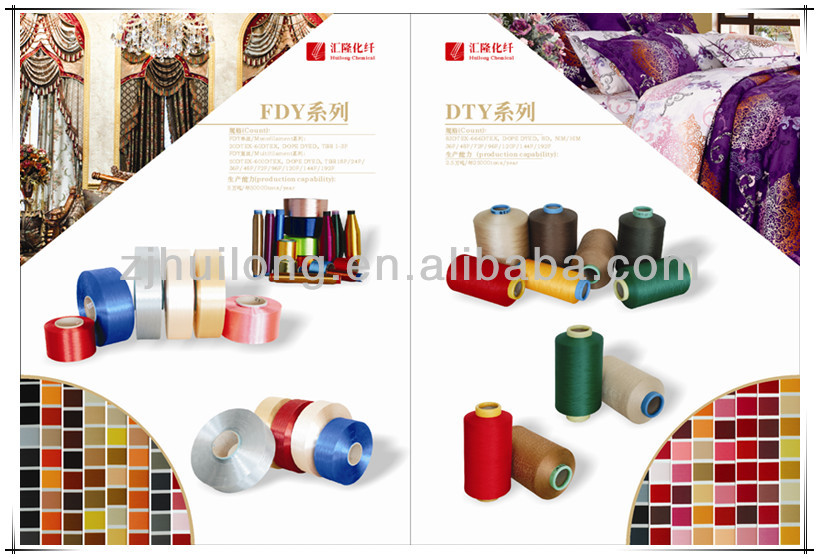 ♥------Our main products:
DTY(polyester dty yarn,dope dyed polyester dty)
FDY(fdy polyester yarn,dope dyed polyester yarn)
POY(polyester poy yarn,dope dyed poy yarn)
Monofilament yarn,Embroidery Thread,Carpet Yarn are all very popular all over the world.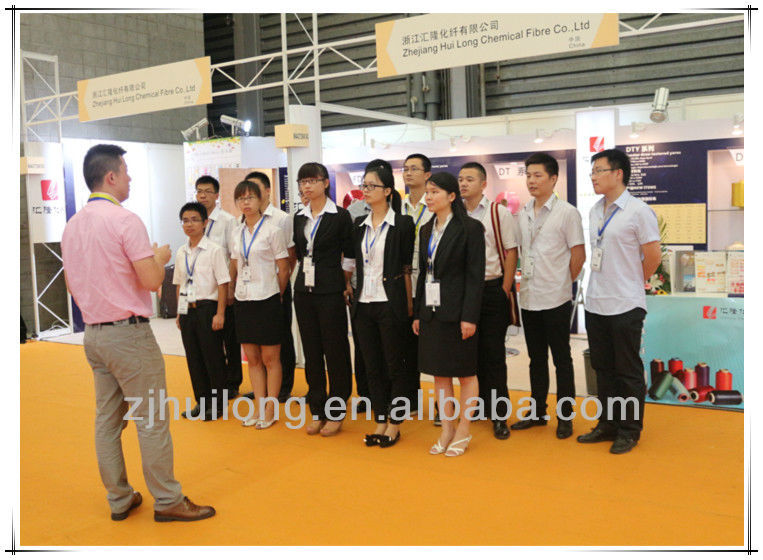 ♥------Professional China Biggest Manufacturer in Dope Dyed 100% Polyester Yarn of FDY DTY POY Monofilament Yarn Etc.----♥ Zhejiang Huilong Chemical Fiber Co.,Ltd.
we are a professional factory specilized in producing 100 polyester yarn with more than 10 years'experience. We sell our products to Indonesia, Pakistan, Italy, Germany, USA, Thailand, Mexico, Algeria, South, Africa, Greece, Denmark, South Korea, Saudi, Uzbekistan etc.Reasonable price, good quality, nice packing, prompt shipment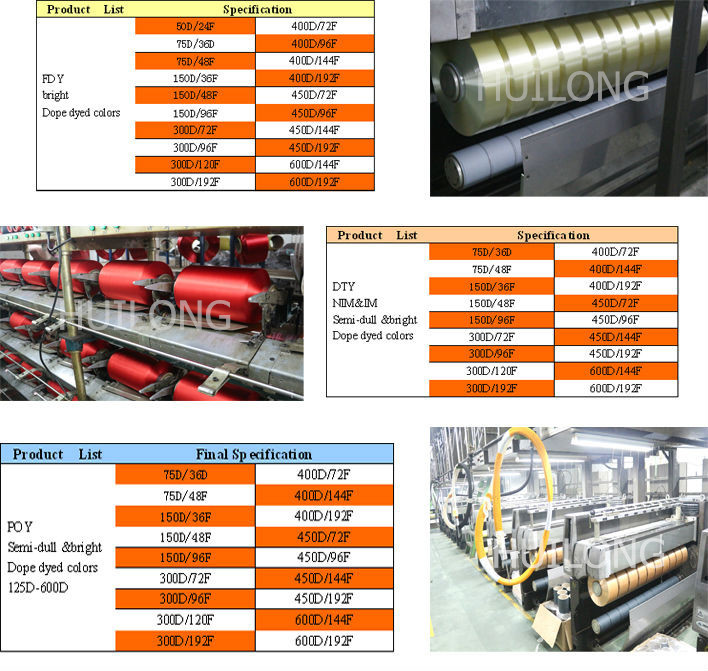 CERTIFICATE (ISO9001)
♥ If you want to know more information about our products, welcome to contact me in any time.
♥ Warmly welcome to your enquiry if you feel interested in one of poy yarns.
♥ Enquiry will be answered within 24hours.
Huilong dope dyed polyester yarn
E-mail: HL-12@zjhuilong.cn
FAX:+86-572-8469536
Mobile :+86-13754228113
Address: No.88 Hanghai Road, Yuyue Town Development Zone, Deqing County, Huzhou City, Zhejiang, China
Postcode: 313213
*

Indicated required field
Inquire: yiwu dope dyed dty 150/48 polyester yarn
*

Your Name:

Please fill in your First Name

*

Last Name:

Please fill in your Last Name

Company name:

Please fill in your company name

Telephone number:
Mobile phone number:

Please fill in your telephone number

*

E-mail:
Country:
Address:

*

Inquire intention description:
Verification code:
Not see?!
Please fill in the quantity and description of

Inquire

products for uniform stocking.
<%@ content:end %>